Broken Spring Replacement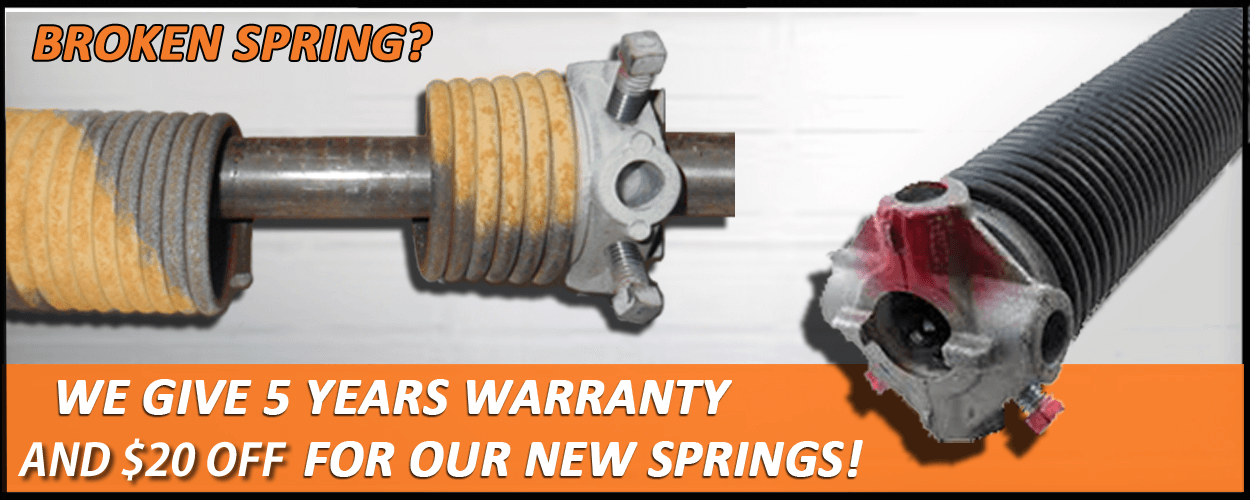 Broken Spring Replacement – We provide the fastest respond for garage door spring repair calls. With always ready garage door repair service trucks, fully loaded with torsion springs of all sizes we at Garage Door Repair of Janesville are quick to arrive and always stocked with the right springs to complete the garage door spring replacement job right.
As you might read in other websites, any garage door spring replacement for torsion spring system with two springs (some have one spring and not two springs) is alway recommended to replace both springs. To make you feel more secure about your decision of replacing both garage door springs, we offer a 10 years standard and lifetime (optional) warranty for our torsion springs (When you replace a pair of springs)
Like every garage door repair job we perform, garage door spring replacement is also based of $85 labor cost (emergency charges may be extra) and the cost of the spring is additional. Torsion springs prices may vary by size, so we will always measure the spring and replace it with the right size for your garage door.
We also provide repair service for garage doors that has the old extension springs system, in the big majority of the cases unless is a case of an extremely light and under sized garage door we will highly recommend to convert the garage door springs system from the old extension springs system to the new, more reliable, more efficient and much safer torsion springs system.
One more thing that is super important to know, garage door spring replacement service (torsion and extension) might be very dangerous and it's definitely not a do it yourself type of job that can be made by amateurs, not once in the past people who's not familiar with the proper way to do this type of job and people that didn't carry the proper tolls for the job exposed them self for risk of serious injuries.
When you need to solve your garage door springs problems professionally and in a safe way there's no better place to call than Garage Door Repair Janesville, we are the right company for the job, we are the best and the most reliable garage door repair company in Janesville and surrounding areas.